All orders are processed Monday-Friday from 8:00 AM – 5:00 PM within 24-48 hours. Orders received on weekends or holidays will begin processing on the next business day.
We currently use dock-to-dock shipping as our main shipping method. Cost of shipping varies depending on where we are shipping in relation to our dock in Texas.
Red Shipping Zone
Free Freight for orders over $1,000.
For orders under $1,000 net, a flat fee of $100 will apply.
Blue Shipping Zone
Free Freight for orders over $1,500.
For orders under $1,500 net, a flat fee of $150 will apply.
Orange Shipping Zone
Free Freight for orders over $2,250.
For orders under $2,250 net, a flat fee of $225 will apply.
Yellow Shipping Zone
Free Freight for orders over $2,500.
For orders under $2,500 net, a flat fee of $250 will apply.
How Freight Shipping Works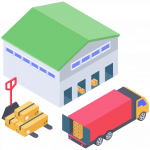 Once our orders department team has confirmed all is correct with your order, they will pass it off to our picking and packing team. Our team members carefully pull each part and piece of your order, checking it for any anomalies or imperfections. In our 3-step check process, a supervisor will check the entire order. After the order is approved, our packaging team takes extra care in securing the items to the pallet using corner protection, banding, and shrink wrap.
Carriers pick-up shipments daily from our facility. Once your order is picked up, the carrier will assign a tracking number to the order that will allow you to track your shipment all the way to its final destination. Allow 48 hours for tracking information to be updated in the carrier's system.
3. Arrival & Delivery Scheduling
Carriers will usually make deliveries in the morning. If you require special services, such as a delivery notification appointment, please note this will need to be communicated to the orders department at the time you place your order. If this is not noted, the carrier will attempt to make the delivery and if they are unable, there will be charges to re-deliver the order.
You will need to be available to accept and sign the bill of lading for your order. Please make sure to check that all the pallets have arrived and inspect the outer packaging of each pallet.
If you sign for multiple pallets and then realize you are missing a pallet after the driver leaves, you are now liable. The freight company will argue that you signed for all pallets.
If a pallet is mostly damaged, please turn away just that pallet.
If there is a small amount of damage always have the driver notate this on the bill of lading and have the driver date and sign it. This will allow us to file a freight claim.
Please provide as many good photos as possible of the damage. Taking photos too close or too far can make it harder to show damages in a claim.